Waterfront Marine is proud to now offer Mercury Outboards for sale. As a full stocking dealership, we offer Mercury motors from 2 HP to the all new Mercury V-12 600HP Verado. With our experienced team, you can count on Waterfront Marine to re-power your dream boat and get even more years of enjoyment from it.
Maybe your boat doesn't perform the way it used to or the way you'd like. Maybe your family has grown, and your boat needs more power. Perhaps your outboard engine has reached the end of its service life, or the parts to fix it have become difficult to find. Whatever the reason, replacing an old outboard can deliver improved performance, increased fuel economy and better handling for a more enjoyable boating experience.
GO FASTER. GO FARTHER. GO BOLDLY
REPOWER WITH MERCURY.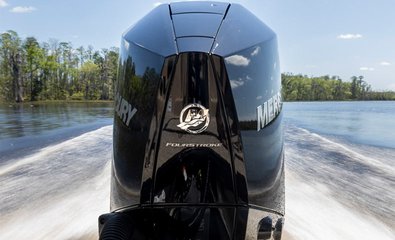 More Power.
Mercury outboard engines are light and compact, but deliver the power serious boaters demand. Repowering your boat with a new Mercury outboard can give you awesome hole shot, quicker acceleration, higher top-end speed, or, in some cases, all three.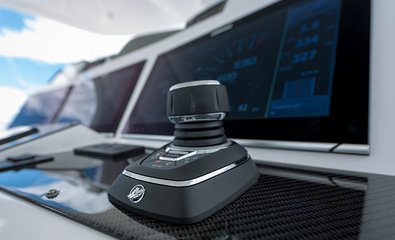 Newer Technology.
Mercury provides the brawn and the brains thanks to technologies such as SmartCraft, which includes a full suite of gauges, sensors, vessel systems and computer-controlled features in one package. SmartCraft makes your boating experience easier, safer and a lot more enjoyable.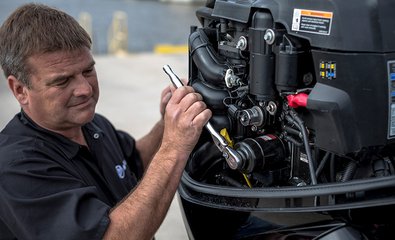 Easier Maintenance.
For more than 80 years, Mercury has strived to engineer reliable, easy-to-maintain outboard motors. Longer intervals between service mean you'll spend less time on maintenance and more time on the water. When it's time for a routine check, features such as our exclusive Top Cowl Service Door* and color-coded maintenance points make the job easy.
*Available on select models.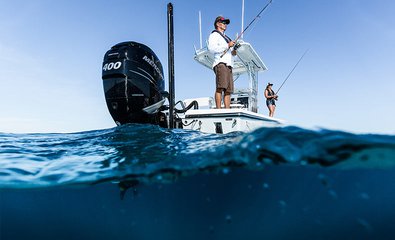 More Fuel Efficient.
Mercury engines are designed to save you money on fuel with features such as Advanced Range Optimization (ARO),* which utilizes electronic sensors to precisely adjust the fuel mixture for the best-possible efficiency at all speeds. You won't feel or hear it working, but you'll notice the difference at the gas dock.
*Available on select models.
Waterfront has the capability to do full refurbishments on boats including new motors, new electronics packages, new trolling motors, new power poles, or just a new finish on the interior or exterior. As a full service dealership, we have the capability to handle all aspects of refreshing your existing boat. Please call today for the details!